Gugak (Korean National Music)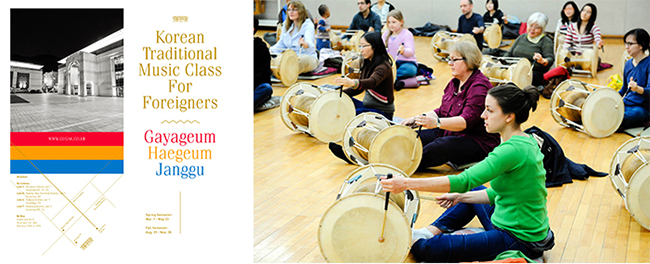 Photo credit: National Gugak Center
National Gugak Center (NGC) is preparing a surprising present for international gugak fans by offering gugak classes to foreign residents in Korea. National Gugak Center will be accepting applications until March 5 for the first of its bi-yearly gugak classes, running from March 7 to May 23, 2015.
The NGC is to offer lessons for Janggu (Korean double-headed drum), Haegeum (Korean stringed instrument) and Gayageum (Korean zither with twelve strings).
The music numbers to be learned during class are not just traditional Korean folk songs, such as Arirang, but also folk songs from around the world as well as from drama soundtracks. All classes will be taught in both English and Korean. A recital will be held by the students on the last day of the term.
The term gugak translates into "national music" and comprises roughly of two bigger genres, folk music and court music.
While court music includes ritual and aristocratic music like aak (imported from China), dang-ak (a fusion between Chinese and Korean court music) and hyang-ak (purely Korean), the folk music has p'ansori (vocal), sanjo (instrumental music), jeong-ak (instrumental and vocal music), nongak ("farmers' music", drumming, dancing, and singing), shinawi (shamanistic music) and salpuri (dance, related to shaman rituals).
Today, we also have newer additions to Korean Music, Changjak-gugak or Shin-gugak, newly-composed Korean traditional music and fusion gugak, with western elements.
I would like to give you a general overview of Korean Traditional Music and focus on two interesting topics, P'ansori and Fusion Gugak afterwards.
Hopefully, this article will give assistance to first time readers as well as gugak lovers.
Follow us on Instagram: wannabeps_korea
Wechat: wannabekr
Line: wannabeps
Kakao talk: wannabeps
E-mail : wannabeps@gmail.com